I have a piece of property on Lewis Smith Lake in NW Alabama. It's a beautiful place with emerald green water… it's very large – over 550 miles of shoreline – and very clean – supposedly the second cleanest lake in the US behind Lake Tahoe… Oh.. and it is very DEEP. It's one of those places where a power company builds an earthen dam at the end of a valley where all of the streams and creeks meet in one place.  Then the water backs up behind the dam… filling up the valleys and forming a very large reservoir.  (This is NOT my property. LOL.  This is my buddy Ivan's boathouse on the same lake.  I like this picture though because it shows how nice the water is.)
The lake was built in 1961. I have friends who grew up in that area that have told me that when the Alabama Power Company came around and bought up the land to use for their reservoir they surveyed it and staked out where the shoreline would be. Grandparents took their small grandchildren out in the back of the farm on the hillside and told them 'one day there will be a big lake right here and all of this will be shoreline… go ahead and pick out where you want your house to be'. They did. I know people who told me that. Now they live in a beautiful home on the shore of Lewis Smith Lake. The local people from Birmingham and the surrounding towns would come out on the weekends to watch the valley fill. As I said the lake has 550 miles of shoreline and covers over 21,000 acres. It took about six months for the lake to fill to capacity. When the lake was full it came to within 6″ of where the surveyors said it would. In 1961. It's a VERY big lake. It's probably 50 miles by water from one end to the other. The fishing is fabulous. ESPN regularly airs BassMaster fishing contests that take place there. There is a hybrid Striped Bass there – a salt water fish. I've seen some that were 45 lbs pulled out of the lake. Oh, the boating, skiing, wakeboarding and jetskiing are very good too. Anyhow, I bought this boat dock off of a guy. The boat docks on the lake have to float. The reason is that the water level can vary as much as 16′ or more between summer and winter. Boat docks are very expensive.
I got a great deal on this dock. It's been sitting attached to the house of the guy who sold it to me. I have needed to get it moved to my lake property but needed a "mount" built to have the walkway attached to. Well, the mount was designed by my friend Ivan. I helped him build his house on the lake about three years ago. Ivan suggested combining a small 12'x6′ "deck" with the normal mount. It sounded like a good idea… so we got this guy named Steve to build us a combination dock mount/deck to our specifications. When mounted the deck would be about 7′ off the water in front… so a railing seemed like a good idea. It was built out of galvanized steel so it wouldn't rust. Here is a picture of it after it was built:
This past weekend was the weekend to go down to the lake to install this thing.
Friday after work we drove to the lake. We stopped at the Home Depot in Jasper, Alabama – which is about 30 minutes South of the lake – to pick up some things we would need. Smith Lake is out in the boonies man. I love it. But Jasper is about the closest place you'll find a mall (although a rather small one), Home Depot (no Lowes) or Walmart. It's also the closest place you can get a beer. Alabama is FULL of 'dry' counties. The only reason you can buy a drink in Jasper is because towns are allowed to override the State Law if they elect to do so… but most don't. If you're coming to visit me you better bring some beer with you… oh… and you're not allowed to have more than one case per individual in the vehicle… I think they have to be drinking age too. LOL. And you better not have that beer on ice… or you're going to jail man.
Ok, so we stopped at Home Depot and rented a single man auger, an electric jackhammer and picked up 150′ of 5/8″ rebar. I also picked up a 20 pack of Bud Light bottles for Steve – the welder. I know Steve welds much straighter (and faster) if he has a beer in his hand. Then we stopped at Cujo's Pizza for dinner. Who said they can't cook a decent pizza in Alabama? Cujo's is great!
At 6AM we got up and loaded up the rest of the stuff we needed and headed to Arley Coffee Shop. We were meeting Nathan. I don't know Nathan's last name but he does EXCELLENT concrete work. We used him on Ivan's house. We all drove up to the lot in the Northwest part of the lake. It was about a 35 minute drive from the coffee shop. About that time Steve and his brother in law Dave showed up with the mount on a trailer and a mess of extra galvanized steel for the legs. Nathan went right to work digging post holes. He's a machine. I planned to use the auger but there are tons of rocks in the ground so Nathan told me he'd just do it with a post hole digger. I've never seen anyone operate a handheld post hole digger like Nathan. He just digs, chops, scoops… boom! A 12″ wide hole 3 feet deep into the ground and rock. I had 'laid out' the size/design of the mount the week before so I'd know where we had to dig and the angle it had to be on along with the proper height.
So we jumped down off the bank – the lake has already receeded enough to stand and work down there – and started digging where the front legs would go. When we hit a huge rock I'd break out the jackhammer and pulverize it. Nathan kept digging away. We needed nine holes for legs for the dock total, plus two deep ones (one on each side of the lot) back from the shore to hook cables up from the dock. With the first two dug Steve and Dave dragged the mount off the trailer and we each grabbed a side and carried it down to the shoreline into place. We stuck a couple 2×3″ galvanized sticks in the front holes and put some "C"-clamps on them to hold the mount up… adjusted to get it fairly level.
  The back rested almost on the ground. One side needed some rocks under it but in no time the dockmount/deck was in place and level. Steve welded the front legs on. He was a little slow so I gave him another beer which picked up the action (and made his welds straighter). Around this time Ivan told Nathan 'Hey Nathan, this big rock here needs to be moved. We need to dig a hole for a leg right where it's sitting.". Well Nathan is still down on the lakebed. It's about a four foot drop off from the shore to the lakebed. So when he's standing there facing us this rock is about a little lower than chest high. At this point I'm back up on the shoreline with Ivan. Nathan lifts the front (facing him – away from me) of the rock off the ground and let's out a blood curddling scream and runs… "Bees?" I yell as I scurry away from the rock. "No!" yelled Nathan. "There's a copperhead snake under that rock coiled up looking right at me!!"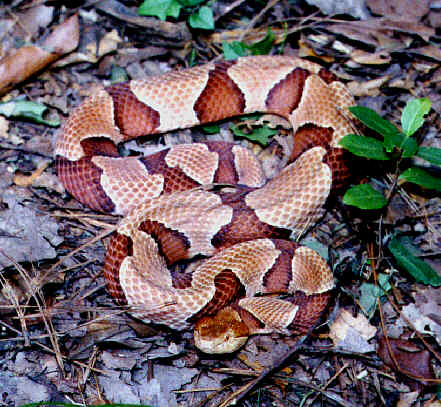 Whoa. Being down on the lakebed put Ms. Copperheads fangs about 2 1/2 feet from Nathans face! I flipped the rock off with a long steel bar and sure enough there she is. Pretty thing. She wouldn't move! Ivan really didn't want to kill her, but hey… I needed to put a hole where she was laying and she had to go. So I took my shovel and chopped her up pretty good. Just before Nathan climbed down to the shoreline he said
"Hey Bill, I hope you have insurance in case I get bit by a snake!" I don't think he was worth a thing after that… LOL. The rest of the day went pretty smoothly after that except that Nathan had to leave around 11:30 for a party so I ended up having to do post hole duty. I'm not very good at it. But we managed. Here are some pictures of the crew doing the job. We cut the rebar in half down to five foot lengths and then used the jack hammer to drive them down alongsid the posts. When the concrete is poured they won't be going ANYWHERE. It took a good five minutes using the jackhammer to drive each of those pieces of rebar into the lakebed. We put some rebar between the legs too.
On Monday Nathan will come back and build a couple forms around the rebar where those legs are and pour concrete there, into all the holes and into the big holes we dug at the property lines (the cable attachement points) to hold the 6′ long 4″ diameter pipe. I also REALLY wanted to get that dock out of there so I had Greg (the guy moving my dock) go get it this morning and push it up to the lot. It's a 24 mile "push" and will probably take him 8 hours to move it. The concrete needs to set up for a week before Greg hooks the walkway to the new mount but I didn't want to wait a week to get the dock moved. I haven't heard from either Nathan, Ivan OR Greg today so I guess no news is good news. I really want to thank Nathan, Steve, Dave & especially Ivan for all the help with this project.  It was a HOT… HARD… BRUTAL… day of work.  But the results were more than I expected.  I can't wait to see it with the dock moved to it. Hopefully I'll have some completed pictures soon!
UPDATE!!!!
THE DOCK HAS ARRIVED!!!!!
Ok, The concrete has been poured to hold the mount and it cured for a week or so
Then Greg came along and moved the walkway over to the mount.  The only thing left to do is to deck it with some composite decking.  Also I purchased a Boat Lift and a Jet Ski dock which Greg will pick up from where they are located and install.  I'll post a separate blog post for that.
The SECOND Dock Off In The Distance is mine.
UPDATE – September 29, 2009
I have some other pics of this, but look at how much the lake rose over the last week.
It's risen a good 5-6 feet over that time due to rain.  Normally this time of year the lake is around 496'… a good 7′ lower than in this picture taken two weeks ago when the lake was at 503′.
This weekend the level is now close to 509'!! 😮
This photo was taken when it was just above 508 on Saturday (and it's still rising – even though it hasn't rained since Saturday).
It's a awful lot of water when you consider that the lake has 550 miles of shoreline covering 21,000 acres… I don't know how much water 21,000 acres – 5 feet deep is… but I'm betting it's a lot!
EDITED TO ADD: I also wanted to post a few pictures of the HydroHoist boat lift and HydroPort2 Jet Ski dock I purchased for a song off the same guy I got the dock from.  I had Greg (the guy who moved the dock) disassemble the lift and jetski dock and move them to my dock here, then reinstall them.  I decided rather than installing the jet ski dock on the outside of the dock that I would install it into the empty boat slip.  My existing jet ski dock (that is at Ivan's and which has my jetski parked on it currently) will be moved here eventually alongside this one.  That way my jetskis will be out of the weather and UV rays of the sun.  If I ever buy a second boat I'll just relocate them to the outside of the boat dock.